"LEAF PEEK AND JOJO'S LUNCH
SATURDAY, NOVEMBER 11, 9:00am
SYLVAN HILLS CHURCH OF CHRIST PARKING LOT,
NO. LITTLE ROCK, AR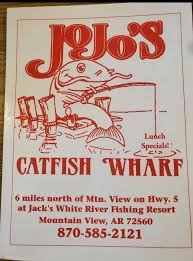 Along with the Polar Bear Run, one of the favorite drives of the Arkansas Miata Club each year has been the fall drive up to Mountain View, to see the colors in the Ozarks and to enjoy a great catfish lunch at JoJo's Wharf at Jack's Fishing Resort on the White River at Sylamore Creek.
We'll meet Saturday morning, November 11th in the parking lot of Sylvan Hills Church of Christ at Maryland Avenue and Hwy 107 (JFK Boulevard) in North Little Rock at 8:30am, with a drivers' meeting at 8:50am and departure by 9:00am. We will play a game of poker on the way, so bring your $ 5 to participate in the game !
JR Mills will lead us through the backroads of the Ozarks and past Greer's Ferry and Heber Springs to Mountain View, AR where we'll stop for lunch at JoJo's Catfish Wharf just north of town. Lunch will be the individual's responsibility, from the menu.
After lunch, we'll separate and return routes will be up to you !  Stop in Mountain View and see who's playing at the Courthouse, or stop in Heber Springs and do a little shopping at the Ozark Country Market.